13-story boutique hotel with significant food and beverage focus revealed for the EDGE District
At the beginning of 2020, there were around five new hotels planned for downtown St. Pete. When COVID-19 hit, financing for new hotel construction dried up. Most of the proposed hotels were either reconfigured into apartments or scrapped altogether. Only two hotels found a way to move forward.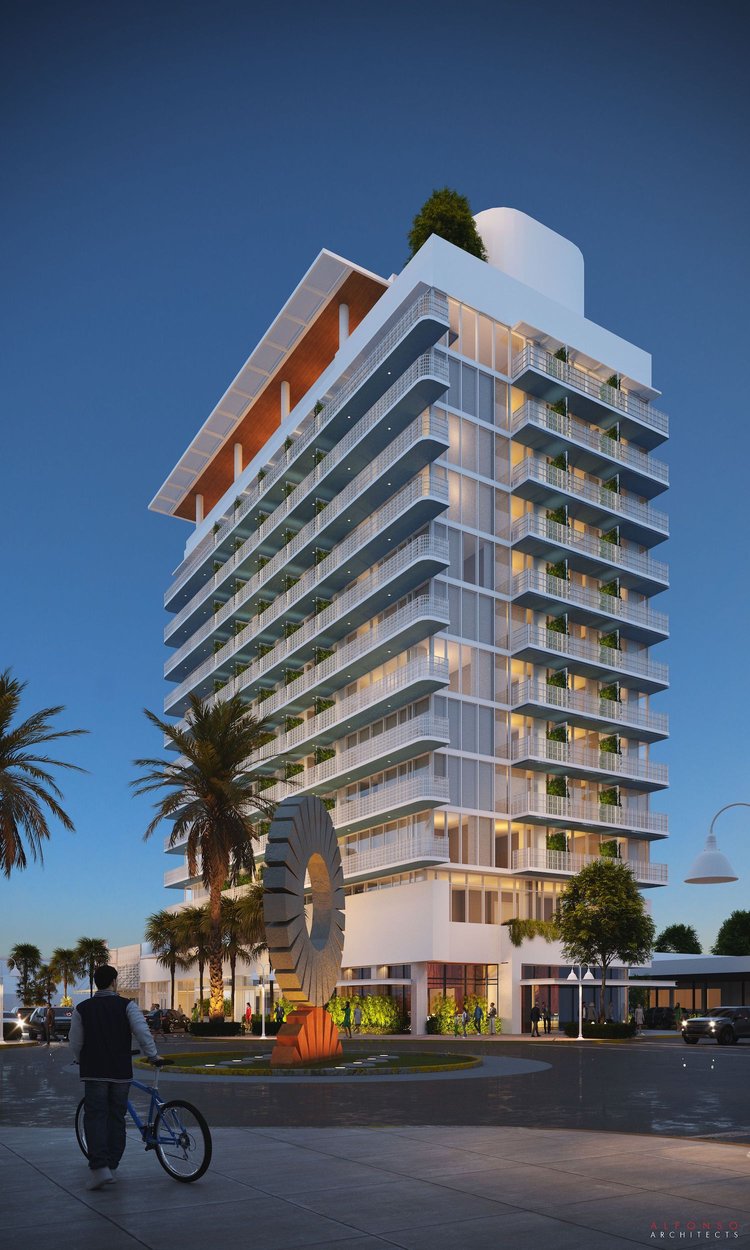 St. Pete Rising
Oct. 31, 2022
Today, with COVID under control and the world beginning to travel again, hotel financing has opened back up and downtown St. Pete is once again in need of additional hotel rooms.
A new 114-key boutique hotel with a significant food and beverage focus has been proposed for the EDGE District of downtown St. Pete. And once the hotel debuts, it's expected to be among the most opulent hotels in St. Petersburg.
The 13-story hotel will rise 150 feet above the EDGE District on the corner of Central Avenue and 11th Street near Ilan Averbuch's Sun on the EDGE roundabout sculpture. The project will have 321 feet of Central Avenue frontage.
The development is being spearheaded by local St. Pete developer Jonathan Daou, President of Eastman Equity. Daou moved to St. Pete in 2014 after spending 20 years in New York City. Once settled in the Sunshine City, Daou began investing in the EDGE District by purchasing derelict storefronts, renovating them, and leasing them to local businesses.
"There really isn't a great boutique hotel in St. Petersburg," said Daou. "I want to deliver a space where you walk in and think 'Wow, I feel lucky to be here.'"
Daou is responsible for bringing many of the EDGE District's most popular local shops and restaurants to the neighborhood, including Grassroots Kava House, Ashe Couture, Matter of Fact, Intermezzo, and Pizza Box.
The proposed 13-Story 114-Key Hotel is planned for the corner of Central Avenue and 11th Street in the Edge District
With an overall belief in nurturing small businesses and giving them a chance to succeed, Daou will continue to support local establishments in his new hotel, which will include approximately 5,000 square feet of commercial space.
The project will consist of the main hotel tower plus approximately six food and beverage concepts scattered throughout, including a lobby bar, a pool bar on the 2nd floor, and a rooftop bar on the 13th floor with sweeping views of the downtown St. Pete skyline.
The 1940s building that until recently housed Karma Juice Bar & Eatery will not be demolished, but instead be incorporated into the new hotel's design and occupied by a new full-service restaurant.
On the west side of the project, a standalone bar with a rooftop deck and garden will be constructed.
"I like the idea of the guests having a lot at their fingertips," said Daou. "And a lot of places to sneak away to and not feel like you're in a fishbowl."
Daou has teamed up with Albert Alfonso of Tampa-based Alfonso Architects to bring the project to life. Alfonso's most recent work includes the stunning 5-story, 137,000-square-foot Museum of the American Arts and Crafts Museum, which opened last year in downtown St. Pete.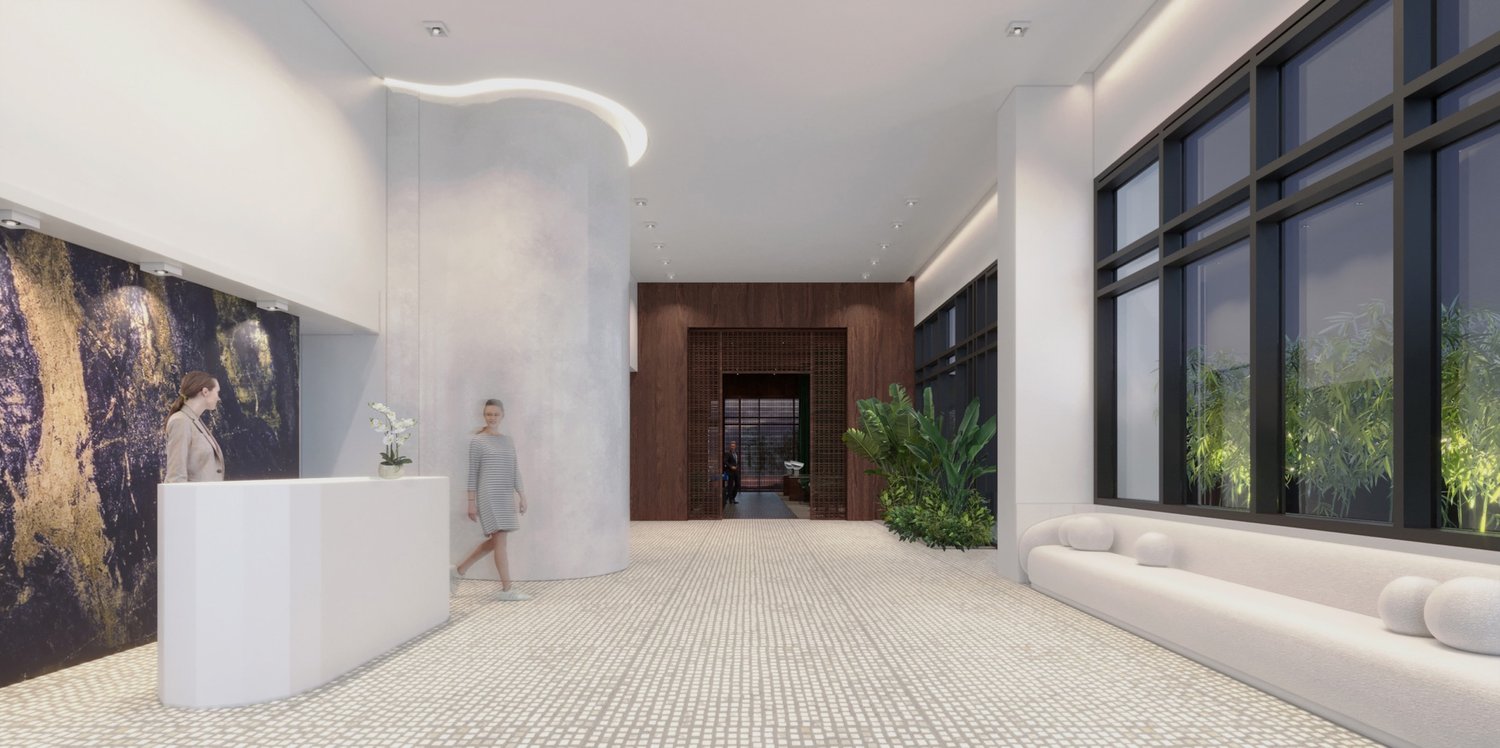 The proposed hotel will feature a grand sun-filled lobby that will greet guests upon arriving
"I'm at a point in my career where I just want to do cool projects," said Alfonso. "We have an opportunity to do something really special. Something that really bursts from the soul of what St. Pete is. This is not going to be a Miami project. It is grounded in St. Pete principles of lifestyle and art."
Alfonso's design was inspired by mid-century hotels with Florida breeze block, balconies, and grand sun-filled lobbies. Historic beach cottages also influenced the look of the hotel.
"I have great memories of visiting Pass-a-Grille when I was a child," said Alfonso. "My family didn't have a lot of money, but we would rent these incredible cottages. So for me, there is a bit of nostalgia in the project. Additionally, St Pete is a very artistic community and I'm excited to put in three dimensions what St. Pete is all about."
Phase one of the hotel will be reviewed for consistency with the Intown West Redevelopment Plan (IWRP) by St. Petersburg City Council, meeting as the Community Redevelopment Agency, on Thursday, November 10th. Phase two plans, which include the standalone bar and garden, will be submitted at a later date.
Daou hopes to break ground on the hotel by early 2023 with an opening in the first half of 2024.

Site plan for the proposed 13-story hotel to be constructed at the corner of Central Avenue and 11th Street