Best Real Estate Deals: Hotel Haya is a hospitality project of the year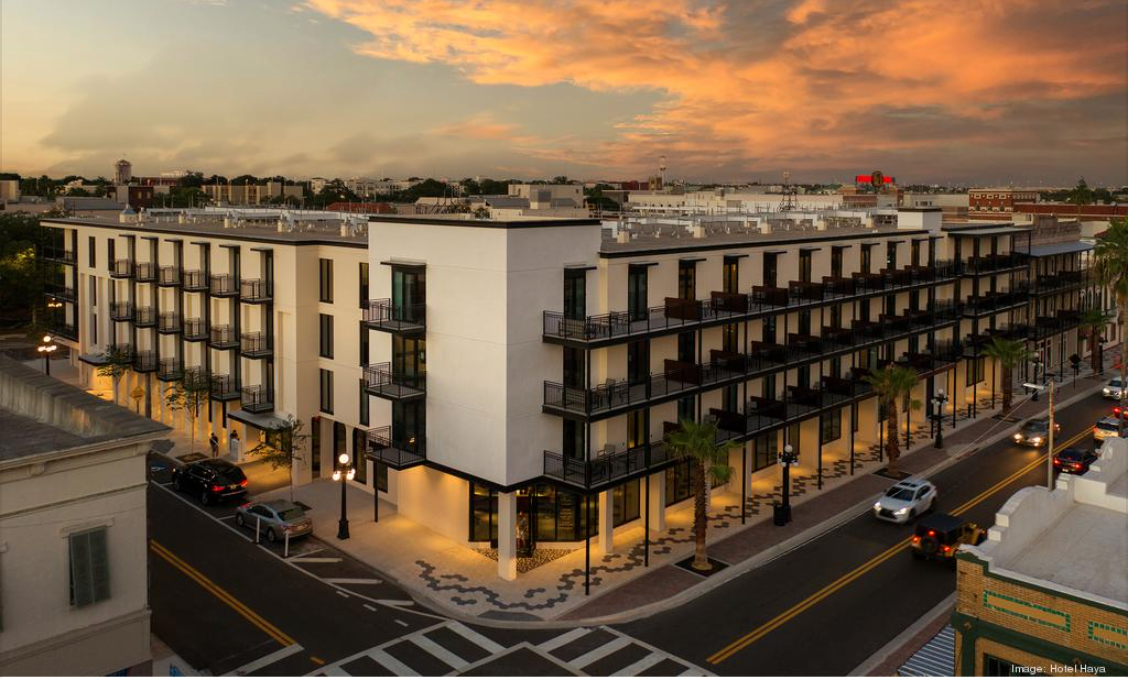 Hotel Haya in Ybor City
COURTESY PHOTO
By Ashley Gurbal Kritzer  –  Real Estate Editor, Tampa Bay Business Journal
Dec 17, 2021
Hotel Haya is a place that elevates Ybor City on multiple levels.
The design-forward hotel both honors Ybor's history and is a nod to its future as a destination neighborhood within downtown Tampa. The development team preserved a 103-year-old piece of Ybor history by saving the facade of the Las Novedades building and constructing a new structure within.
Hotel Haya is a new, high-end hotel option for downtown Tampa, but it's also much more: It joins the ranks of developments like Oxford Exchange and Armature Works as beautiful, photograph-worthy destinations that give Tampa a sense of place.
Key players
Architect: Albert Alfonso, Alfonso Architects
General contractor: EWI Construction, Casey Ellison
Engineer: ICT Engineering, Bennie Pandorf
Financier: Valley National Bank
Owner/developer(s): Alliant Partners, David Robinson; Walson Real Estate, Casey Ellison
Tenant: Aparium Hotel Group, Jordan Star
Other: Batson-Cook, Conn Crabtree
Big numbers
103: Age of the original Las Novedades building
55,000: The number of individual end-grain wooden blocks in the floor sourced from a historic lumber company then installed, stained, and sanded by hand on-site.
$31.7 million: The total project cost for the 140,000-square-foot property
Big numbers
103: Age of the original Las Novedades building
55,000: The number of individual end-grain wooden blocks in the floor sourced from a historic lumber company then installed, stained, and sanded by hand on-site.
$31.7 million: The total project cost for the 140,000-square-foot property
In 1997, Rudy Ciccarello saw a reproduction of a Gustav Stickley bookcase near his home in Palm Harbor, Fla. Weeks later at an auction he saw an original of the bookcase and was soon taken with works from the American Arts and Crafts movement. From then on he began building a collection that included everything from furniture to pottery and metalwork from the movement.
A retired entrepreneur, Mr. Ciccarello, who made his fortune as the founder of Florida Infusion Services, a pharmaceutical distributor, was determined to create a museum to house the collection.
Over several years, working with the Tampa architect Alberto Alfonso, of Alfonso Architects, he spent about $65 million, Mr. Alfonso said, for a 137,000-square-foot building that included 40,000 square feet of gallery space to create the Museum of the American Arts & Crafts Movement in the heart of St. Petersburg.
Did Mr. Ciccarello ever think about giving all or part of his collection to an existing museum? "Never," he wrote in an email. "The collection is too important to be left in the care of an institution that may not treasure it and recognize its significance."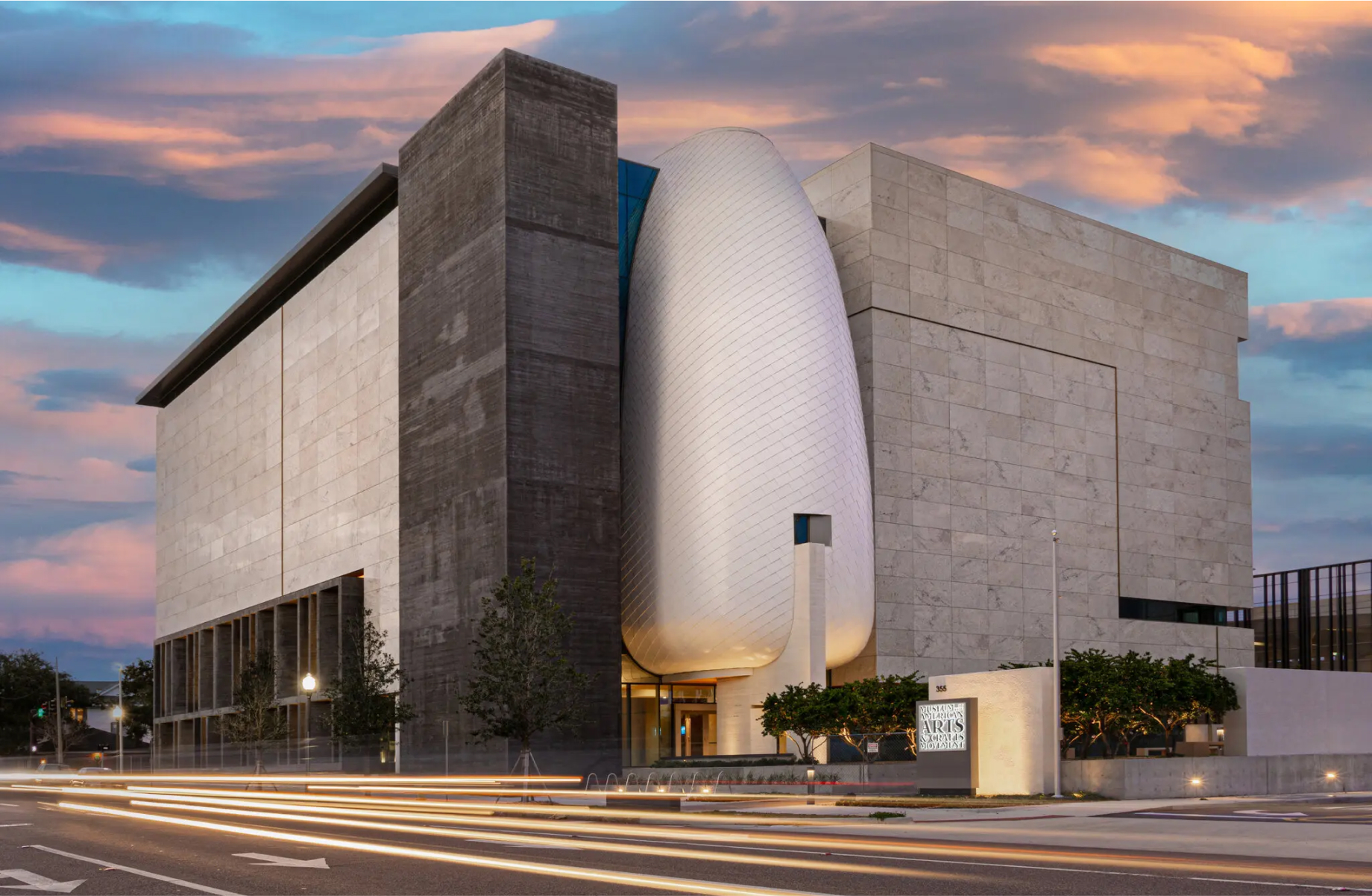 The Museum of the American Arts & Crafts Movement in St. Petersburg, Fla.Credit…Joe Brennan
Mr. Ciccarello is hardly alone. Collectors across the country are choosing to start their own museums and perhaps nowhere has this trend been more notable than in Florida: on the Gulf coast as well as the Atlantic coast.
The Atlantic coast has a clutch of relatively new museums. The Rubell Museum, for example, opened in 1993. Miami also boasts the Margulies Collection at the Warehouse, among others, and Dania Beach, near Fort Lauderdale has been the home of the Wiener Museum of Decorative Arts since 2014.
More recently, however, the Gulf coast has followed suit. In St. Petersburg alone, three new museums have opened since 2018. Those include Mr. Ciccarello's museum as well as the James Museum of Western & Wildlife Art, which houses a collection of Western art largely by living artists. It is the creation of Tom James, chairman emeritus of Raymond James Financial and his wife, Mary. Down the road is the Imagine Museum, home of a glass collection assembled by Trish Duggan, a local philanthropist, to house her own glass collection. Both the James and the Imagine opened in 2018.
Salvador Dali, left, with Reynolds and Eleanor Morse, right, in 1943 at the Knoedler Gallery in New York City.Credit…The Dalí Museum, St. Petersburg; all rights reserved, Fundació Gala-Salvador Dalí, Figueres
St. Petersburg has long been home to the Dali, which opened in 1982. It houses the collection of Reynolds and Eleanor Morse and lures about 400,000 visitors annually. "I think the success of the Dali helped validate St. Petersburg as a destination for new museums," Mark Ormond, who has served as a curator at various Florida museums, said in an interview. In 2010, the city became home to the Chihuly Collection, featuring the artist's works and funded by the local philanthropist Beth Morean.
The Dali Museum in St. Petersburg.Credit…Cristobal Herrera/EPA, via Shutterstock
Chris Ballestra, managing director of development for St. Petersburg, noted that the city has been very involved in seeking the right kind of development.
They have reason to. The American Alliance of Museums reports that museums generate over $12 billion in tax revenues, with one-third going to state and local governments.
Certainly, some collectors give all or part of their collections to existing museums, but coming to terms with collectors often means walking a negotiating tightrope. Steven High, executive director of Sarasota's John and Mable Ringling Museum of Art (also founded by an individual collector), said that museums were always looking at donations, but they had limited space and interest and donors might have dramatic demands. "One person offered us a collection if we would build a new building for it,'' Mr. High said in a telephone interview. "That was not going to happen."
Collectors who build their own collections often have firm visions of what they want.
For example, Tom Magoulis, executive director of Mr. Ciccarello's museum and a longtime business associate, recalled that they had hoped to build the craft museum in Tampa, but there were differences with the city and talks fell apart. Mr. Ciccarello went elsewhere.
"St. Petersburg has been very welcoming," Mr. Magoulis said. Collectors may also start negotiations in one town and end up in another: often in locations where museums cluster.
George Lucas, the filmmaker, had originally sought to create the Lucas Museum of Narrative Art in San Francisco and later in Chicago, cities where he and his wife, Mellody Hobson, have close ties. But when talks stumbled, they went forward with the museum in Los Angeles. As a result, Los Angeles will have two new museums: the Lucas, which is scheduled to open in 2025, and the Broad, which opened in 2015 and was funded by Eli Broad and his wife, Edythe. As for the Lucas: "We are proud that the museum is being built in one of L.A.'s most vibrant neighborhoods: South L.A. — as part of Exposition Park," Sandra Jackson-Dumont, the Lucas director wrote in an email. It is privately funded, she noted, and will have an endowment.
Whether donors build their museums or give to existing entities, there are appealing tax benefits. If, for example, an investor puts cash or art objects into a foundation, he or she can deduct the value of that cash or art from income taxes over a five-year period, as William Josephson, former head of the New York State Law Department's Charities Bureau, explained. However, the deduction can never exceed more than 50 percent of the donor's income each year.