Developer planning new tower near Arts and Crafts Museum
A vacant piece of property adjacent to the Museum of the American Arts and Crafts Movement may be redeveloped into a 35-story apartment tower.
The Atlantic Companies LLC, an Atlanta-based developer, is proposing to build a 375-foot-high apartment tower on a parcel at 333 3rd Ave. N. and 355 4th St. N.
The property is on the same block that houses the museum, Synovus Bank and the Expansive co-working office building. There is a vacant stormwater site within the block, which is the portion of the property The Atlantic Companies is proposing to develop.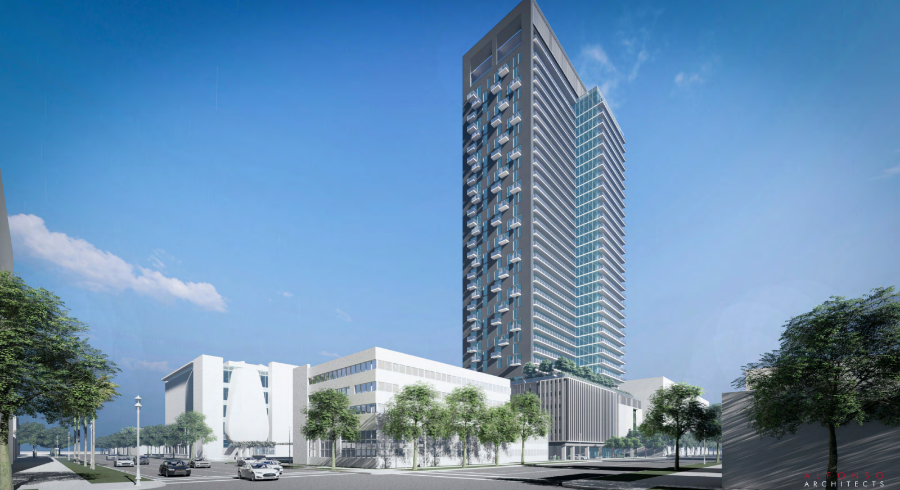 Rendering of The Atlantic Companies' proposed 35-story apartment tower.
By Veronica Brezina
May 24, 2023
The Atlantic Companies, which has worked on the mixed-use Midtown Tampa development, is under contract to buy the property from the ownership group operating the Expansive co-working space.
Previous plans show the tower would have 315 apartment units and a 271-space screened parking garage; however, the modified plans call for an increase of 348 units and 277 parking spaces, according to the new filed site plan.
There would also be 2,203 square feet of ground-floor commercial space.
The applicant is requesting an FAR (floor area ratio) of 4.5. The property is in a DC-2 zoned area in the Central Business District and Intown Activity Center, which permits the highest intensity development. The Atlantic Companies group is requesting a 1.0 FAR bonus for contributing to the city's workforce housing fund and 0.5 FAR for providing an additional 5% ground-level open space.
The filed documents do not indicate a construction timeline and overall cost of the development.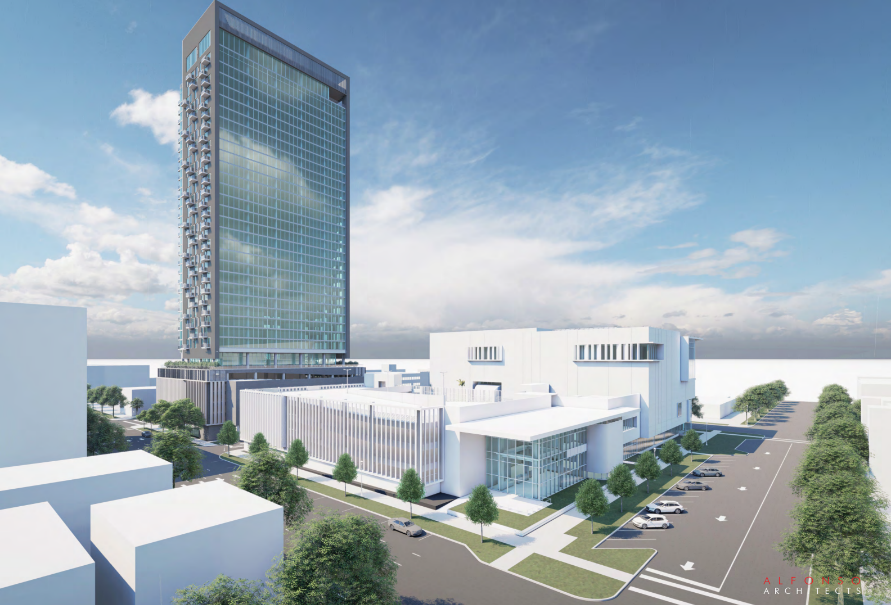 Rendering of The Atlantic Companies' proposed 35-story apartment tower.
According to the site plan, The Atlantic Companies is working with Tampa-based Alfonso Architects – designers of the Museum of the American Arts & Crafts Movement – and civil engineering firm Kimley-Horn. Trenam Law attorney Don Mastry is representing the developer.
The site is near a potentially eligible landmark, Victoria Apartments, located at 341 3rd St. N., which is within 200 feet of the subject property. The development team said the proposed project would not have a negative impact on the existing apartments.
A site plan of the apartment tower.