Masonite breaks ground on new HQ in Ybor City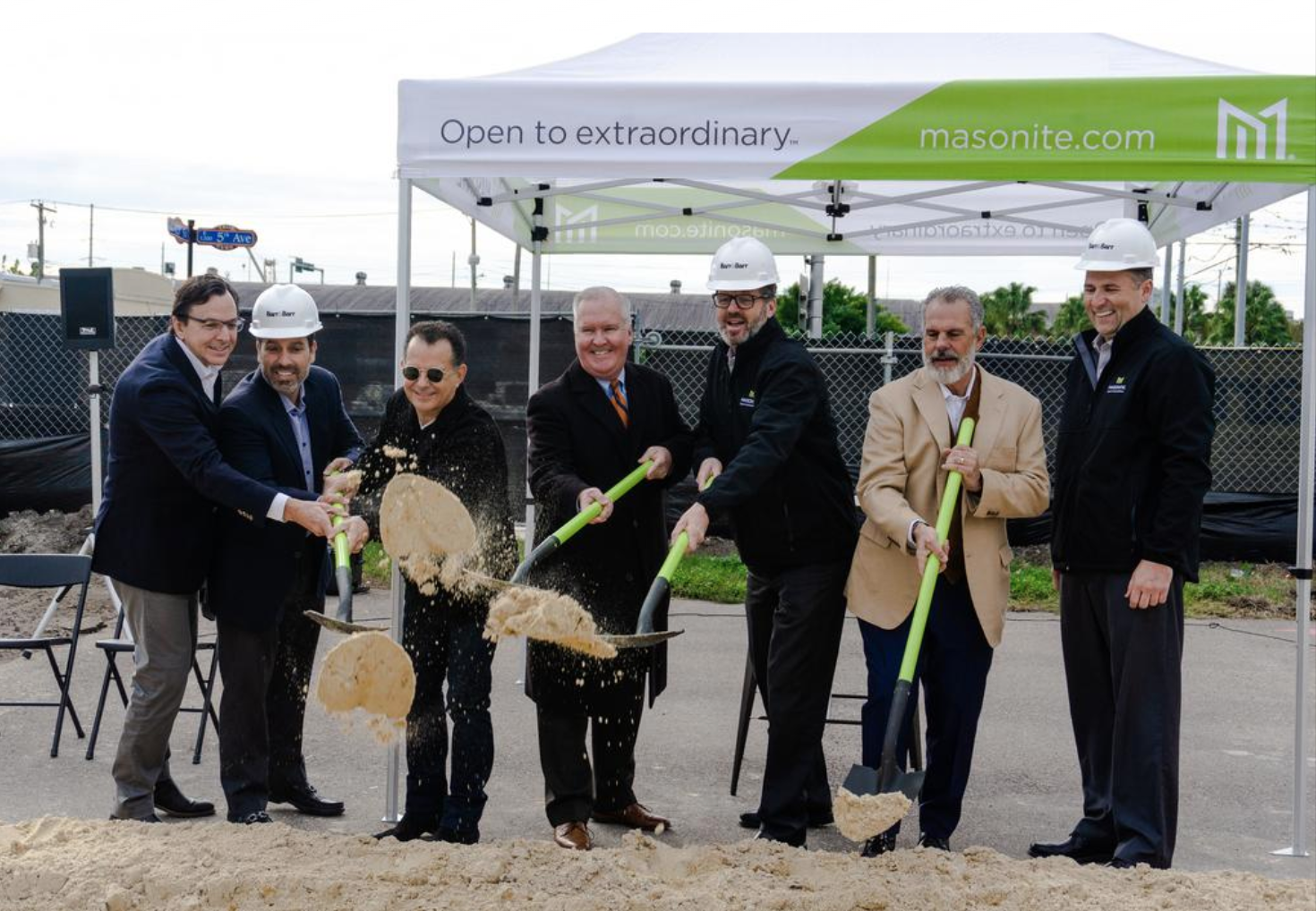 From left to right: Angel del Monte of Alfonso Architects, Frank Capitano with Alliant Partners, Albert Alfonso with Alfonso Architects, Mayor Bob Buckhorn, Fred Lynch, President and CEO of Masonite, Carlos Alfonso with Alliant Partners and Bob Paxton, Senior Vice President in Masonite's Human Resources.
By Lauren Coffey  –  TBBJ & Inno Reporter, Tampa Bay Business Journal
Nov 29, 2018
Masonite International Corp. is sticking close to its Ybor City roots.
The designer and manufacturer of interior and exterior doors had an existing office in the city that housed many of its corporate employees and will soon have a headquarters campus for the employees to work more closely together.
The groundbreaking for the 56,000-square-foot building was held Thursday morning at 1309 E. 6th Ave. Its previous building is 47,000 square feet at 201 N. Franklin Street. The new headquarters will be ready for move-in roughly by late December 2019.
"This is an opportunity to create more of a campus for Masonite headquarters, where we can have most of our Tampa-based employees very close together," Robert Paxton, senior vice president for Masonite's Human Resources, said. "It'll definitely create an opportunity for growth as we add staff. We've been growing over the last several years and we really outgrew the existing space."
The new space will house about 400 employees. The company, which has been around since 1925, moved its headquarters from Toronto to Tampa in 2004. It serves more than 7,000 customers in 65 countries.
"We're a significant employer in the Tampa area and [the new headquarters being built] should represent that this is our home," Paxton said. "We're making an investment in the community and we're able to attract great talent to come and work for us in Tampa. So I think it's showing we're continuing to put down roots here."
Masonite is the eighth-largest public company in the Tampa Bay area based on Tampa Bay Business Journal research, with $2.03 billion in 2017 revenue.